This Saturday, I did a
metric century in Ojai, CA
with my friends. What's that, you ask? It's a 62-mile bike ride. Why do people do it? Because it's beautiful, and it seeds your dreams with gorgeous landscape tracking shots. Ojai is just as beautiful as the terrain I've biked in Northern Italy, and Umbra (also in Italy). It was a hilly challenging course, but very well supported with such gourmet treats as banana sandwiches with peanut butter and oreos. Turns out this is an athletic super-food. Oh, and you can eat whatever you want afterwards. I love it!
But, as a result, I was exhausted, and my plans for a Saturday/Sunday swatch-a-palooza using that Crown Brush 180 palette went by the wayside.
Yesterday, we watched the Queen's Diamond Jubilee Pageant on the BBC America, and said the word "Jubilee" over and over again in Monty Python silly voices until we were blue in the face. Why do I find this so amusing? Maybe the aluminum chloral hydrate in my antiperspirant does cause neurological damage. Hmmm. "Jubilyeeah!"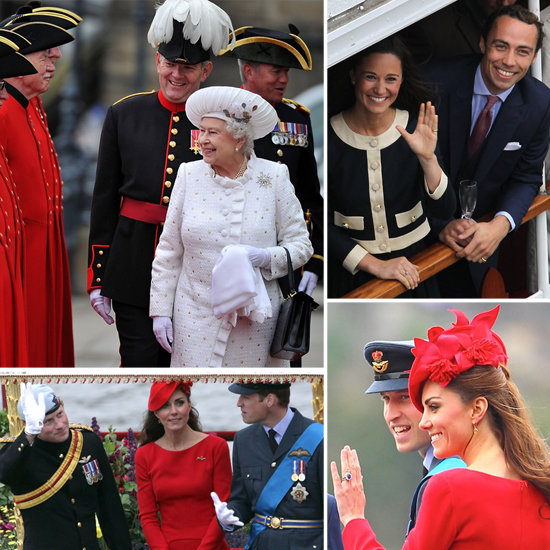 The Queen looked terrific in the white dress coat with diamond accents. I love the hats she's been wearing for the last decade. It was fun to watch her and Charles laugh and have fun. And how the heck did she stand up for all that time? Kate's hat and dress were gorgeous, but I was tempted to make her many sandwiches. The girls must be famished. The broadcast was oddly satisfying. Love that pageantry and pomp and circumstance. Too bad the planes and helicopters couldn't do their big flyover because of the rain.
So during the 6-odd hours of the Jubilee pageant I managed to take my brand new Essie Mojito madness green polish and do my first ombre polish look with it, using Milani's Yellow Whiz fast drying polish as the accent color.
essie.com
There are many many ombre nail tutorials on Youtube. Here are some I have enjoyed and learned a lot from. By the way, I know mine isn't the most gorgeous example of the ombre, but I haven't yet seen this lemon-lime combination.
Mojito Madness by Essie, part of the new summer collection, has a soft gray-blue tone to anchor the brilliant green. It's not really a Kelly green. It has a nice retro 50s tonality, and I adore retro colors in nail polish. Love, love, love. Because this nail polish is fresh, fresh, fresh, it applied very easily, achieving almost total coverage in one coat. I gave it two coats and then painted strips of the yellow and green onto a sponge and patted them onto my nails. Probably, I should have used the yellow as a base and sponged on the green at the tips, but I was in love with the green. You live, you learn.
After that is was a banner Sunday.
Madmen
was amazing.
Game of Thrones
finished with a zombieriffic firebreathing dragony pop, and thus ended my awesome weekend.
What did you get up to this weekend?
Have you tried the ombre look on your nails? It's a fun crafts project.
Feel free to comment below, and let me know what you think!
Cheers!
:)BeautyJones